How to order:

All orders are done via email. I have a phone number and I can call you if you send me yours.


I am not set up for credit cards. I am still using PayPal. I have a Venmo account somewhere but it isn't active right now.

checks, money orders, and cash n carry is always good.
E-mail me here or here



specify where you are - country, state, zip/postal code - what you want to order and we'll get back to you with total price with freight. Your total price will be rounded up with freight to the nearest whole dollar amount.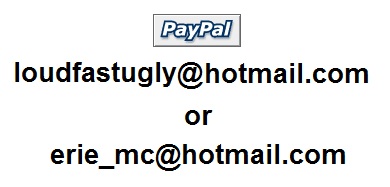 Please do not send money until you have received a freight quote.

Shipping:

I ship orders out generally 2 times per week.

I give you choices for freight service. If you have a preference for shipping method please let us know and we will try to accommodate.
USA orders:

I use US mail (a.k.a. USPS) for 80% of my outgoing shipments. USPS offers Parcel Post, 1st class mail, priority mail, priority mail flat rate ( small, medium, large, and envelope ) and I use them all.

Larger items (over 4 -5 lbs) or bulky items are generally shipped FedEx Home Delivery or FedEx Ground.

We were using UPS up until recently. FedEx offers slightly better rates and there is a drop-off outlet across the street from our new location. Sorry UPS Girl :(


International orders:

USPS First Class Mail International parcel up to 4lbs or Priority Mail if you want faster delivery and a traceable delivery confirmation #. USPS no longer offers parcel post for items over 4 lbs. Your options are Priority Mail International or Priority Mail International flat rate box(es) .

We also ship to APO.
Other than the minimum order policy, we generally don't charge a "handling" or "packaging" fee, except for bulky items, i.e., frame, motor, OEM exhaust. However, UPS, USPS and FedEx may charge oversize fees or special handing fees.

Minimum order policy:
We may choose not to accept orders under $20. We want to be helpful, but not to the point where we're working for poverty wages just to fill an order. We reserve the right to make exceptions.
Technical support:
We have 20 years of parts & service expertise. You can E-mail here or here about any item we sell and the best recommendation for your motorcycle(s). If you require any assistance in installing parts or components purchased from us, you can contact us and ask for help. However, we may refuse to help you if we feel that this service is being abused. (see "Customers from Hell" below)
Guarantee:
If you send money, you will get your parts order. Your order will be shipped as quickly as possible. It will be the correct item and in the condition as advertised. To do otherwise would constitute Mail Fraud, which is a federal offense.
Returns:
If item(s) received are incorrect, defective, or otherwise not as advertised, you can return it for refund, credit or exchange. You must contact us right away and let us know what the problem is so we can correct it. We do not accept returns without prior notification. We reserve the right to accept or deny returns. We also reserve the right to subject returns to a 20% restocking charge. We usually don't do this, but we do reserve the right to do so if the situation warrants.
We do not ship COD.
Electrical & electronic parts:
All such components, new or used, are either tested or are otherwise known to be in good working order prior to shipping. However, We have no way of knowing what damage you may do to said part(s) once you install it. Therefore we can not accept it for return. Nor can we guarantee that our part(s) will solve your electrical system problem, as it is up to you correctly diagnose your electrical problem and identify the faulty part(s), if any. You can however, telephone (NOT email) us if you need help, and we'll try to talk you through it, and hopefully we will identify the problem and get you the right part.
Customers from Hell:
We go out of our way to make sure you get the correct item(s) for your application, and we are here to help if you have any trouble installing parts purchased from us. If you need help, ask. If there' s a problem, let us know, and we'll make it right. However you are ultimately responsible for ordering the correct item(s) and installing them properly. Do not blame, accuse, insult, threaten, make ultimatums, harrass, or engage in any other ignorant and childish behavior and expect us to respond favorably. If you do, we will not help you, regardless of who may be at fault. And you may be subjecting yourself to civil or criminal charges. Do not attempt to lie, scam, cheat, slander, coerse, or blackmail us, 'cause we're on to you. We have state-of-the-art bullshit detecting capability. Basically, don't fuck with us. Sorry we have to post this, but unfortunately there are one or two of you out there who have screwed it up for the rest of the motorcycling community. If you have a problem with this policy, shop elsewhere. We don't need the hassle.

Thank you for your understanding!